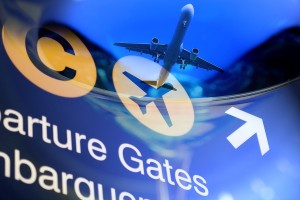 Bodyguards on international assignments are taken out more often by not following the corporate travel policies and procedures than from global criminals or terrorists. Here are some simple guidelines for not running a foul on international bodyguard assignments: 1) Ask for a copy of the travel policies and procedures manual, 2) Study the section concerning authorized travel expenses incurred while conducting business on behalf of your principal or client and, 3) Comply with the policies and procedures in the manual.
Visas and Passports: Bodyguards traveling internationally should ensure that their passport is current with at least six month validity and at least three blank visa pages. Bodyguards should not travel on a tourist visas but rather obtain a business visa as necessary prior to the scheduled departure date for the assignment. The expenses related to obtaining a business visa or passport (passport and visa photos, certified copies of birth certificates, etc.) are normally reimbursable by your company or client's company. Study the travel policies and procedures manual to be sure.
International Flights: Business class seats are normally booked for international flights of more than five (5) hours actual airtime, and generally if business class is not offered, then first class may be used. Study the travel policies and procedures manual to be sure.
Taxi & Town Car: Upon arrival within your international operational area when on advance work (not with your principal) taxis are the preferred ground transportation method. However, there may be situations where the use of a town car has a valid bodyguard assignment purpose such as meeting and briefing the security driver and observing his driving skills from the airport to the hotel.
Hotel Accommodations: Hotel accommodations should meet reasonable and adequate (not extravagant) standards for convenience, safety and comfort while doing advance work. If providing operational protective coverage than you would be staying at the principal's hotel which would be more on the extravagant side.
Meals: Reasonable costs will be reimbursable for meals by your company or client's company. This should include 3 meals daily with snacks, minibar, beverages (non-alcoholic) tax and tip.  What is a reasonable cost? In certain international cities $150 to 200 per day, again study the travel policies and procedures manual to be sure.
Tips: Tips are normally a reimbursable expense by your company or client's company and should be appropriate to the location, service level and local protocol and not exceed 20% of the total food bill.
Foreign Currency: Bodyguards should have at least US $50 equivalent in foreign currency prior to leaving on international assignment and should exchange additional currency at the airport upon arrival. However, always keep three, crisp, one hundred dollar US bills on you for survival cash.
Phone Policy: Bodyguards should use their best judgment in limiting calls to a reasonable length while traveling on international assignments. Mobile phone should be used whenever possible. Hotel phones should be used only when mobile phone service is not available.
Miscellaneous: Expenses Laundry and dry cleaning normally when travel is longer than four consecutive nights, fees incurred to access the health club or fitness center of a hotel or nearby fitness center, once more study the travel policies and procedures manual to be sure.
Non-Reimbursable: Bodyguard Expenses Normally the following are non-reimbursable expenses, this list is not all-inclusive: The following expenses are not reimbursable: 1) Lost luggage and contents, 2) Fees or dues for airline VIP clubs and hotel loyalty or frequent-stayer programs, 3) Class of service upgrades, 4) Massages, manicures or personal trainers, 5) Personal travel expenses, including sundries or recreational reading, 6) Movies (in-room and in-flight movies).
Expense Report: Your bodyguard expense report should be submitted with your invoice for services or be submitted within 10 days of completing the international bodyguard assignment.  You are responsible for providing all receipts to support your expenses; this should include airfare, ground transport, lodging, meals and other authorized expenses.  Keep safe on your next international assignment and God speed.
About Doc Rogers: He is the author of best seller Corporate Executive Protection – A Manual for Inspiring Corporate Bodyguards and the newly released eBook entitled How To Become An Executive Protection Specialist http://www.amazon.com/Become-Executive-Protection-Specialist-ebook/dp/B00AAIFW32   Doc is president and CEO of International Corporate Executive Protection Ltd., has earned a Ph.D. in Security Administration from Southwest University, is a Certified Protection Specialist from Executive Security International, a decorated former veteran police officer and is SE Asia's leading expert on executive protection and corporate security.