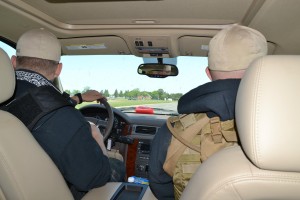 By Doc Rogers
The most successful bodyguards keep their principals away from any known or possible threats through avoidance, staying alert at all times and being aware of their environment.  Threat prevention methods against your principal place a significant importance on observation skills; keeping a constant state of vigilance, noticing suspicious actions of others, anticipating and avoiding possible danger at long, medium and short range.
Executive Surveillance
Executive surveillance is a term used to describe a specially planned, organized and goal-oriented activity to detect the absence or presence of potential threats in your general area. The difference between executive surveillance and ordinary protective observation is that surveillance follows an objective for keeping your principal safe through a detailed observation plan that follows a precise method. The disciplines for executive surveillance described below are for bodyguards working solo or on a team. The development of disciplines for executive surveillance is an easy skill to acquire and should become an essential part of your "radar and warning device" to avoid threats before they have a change to occur. These techniques are novel, and executive protection specialists and corporate executives should absorb their safety merits for threat avoidance. 
Categorizing the Severity of the Threat
The process is about categorizing the severity of threats in the area to determine a response. This includes: 1) Watching for people loitering in the area, 2) Obtain ongoing assessment of information in the area; this information provides an immediate threat feedback loop, 3) Keeping aware of people watching you and your principal, 4) Being keenly aware of groups of three or more persons on "triangulation surveillance" (surveillance from three or more location viewpoints relative to your location utilizing three or more surveyors), 5) Avoiding strangers getting too close to your principal, 6) Avoiding vehicles getting too close to your location while on foot (one car distance away is considered too close),  7) Seeing if there are any trends or patterns occurring in the area, 8) Formulating an immediate response plan for certain situations in advance, 9) Preparing to retreat to a prearranged safe haven and 10) Arriving at the designated location in a safe and controlled manner.
Executive Surveillance Techniques
Bodyguards should use the following threat prevention surveillance techniques; start purposefully observing the immediate area in a systematic manner. Before you can accurately assess when someone is a potential threat, you need to have a recognized standard of what is considered safe and normal. Observe what the normal behavior is for the people and activities within the area. After you know what is normal, look for people who are demonstrating wrong behavior. 
Close Distance
Begin with the areas closest to your principal, keeping your awareness focused 360 degrees. Close risks represent the highest threat and give you less reaction time. Your executive surveillance should be within arm's reach up to 20 feet away. Assess the area. Don't just take a casual look around; make a mental list of everything you see. Don't simply skim over the area. Be protective of the immediate area around you. If an individual suddenly enters your immediate (intimate) zone, react instantaneously. Here are distances you should gage:
Individual Distances
This does not apply to all culture-specific or country-specific locations and is used for executive orientation only:
Intimate Distance
The intimate distance is from 0 inches to 18 inches. This is a private zone for lovers, close friends and children holding on to their parents.
Personal Distance
The personal distance is from 1.5 feet to 4 feet. This is a comfortable zone for talking at a party. The individual is kept at arms' length.
Social Distance
The social distance is from 4 feet to 5 feet. You are most likely to transact interpersonal business – talking to a client within this zone.
Moderate Distance
After the immediate areas have been checked, it's time to move your executive surveillance to a moderate distance. Moderate risks represent the second highest threat to an executive as they give you only a moderate reaction time. Keep your awareness focused 360 degrees. Your executive surveillance should be within 20 feet to half a city block away.
Far Distance
After the moderate areas have been checked, you should start scrutinizing far distance surveillance. Far distance risks give you more time to develop a plan of action. Again, keep your awareness focused 360 degrees. Your awareness should be within half a city block to a full block away or further.
Repeat the Surveillance Cycle
After each distance has been observed you should monitor each area for potential risks with overlapping intervals of close, moderate and far awareness. You should make a mental note of any changes to any areas of interest and immediately place them under suspicion and alert the rest of the team. Keep safe and God speed.
About Doc Rogers: He is the author of best seller Corporate Executive Protection – A Manual for Inspiring Corporate Bodyguards and the newly released eBook entitled How to Build Your Own Executive Protection Business.  Doc is president and CEO of International Corporate Executive Protection Ltd., has earned a Ph.D. in Security Administration from Southwest University, is a Certified Protection Specialist from Executive Security International, a decorated former veteran police officer and is SE Asia's leading expert on executive protection and corporate security.