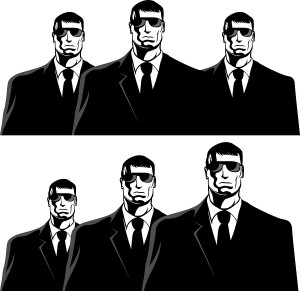 It's your responsibility to educate yourself on choosing the right bodyguard assignment that is right for you. You need to have the ability to say "no" and not go after particular bodyguard assignments that aren't rights for you and your bodyguard future. You should keep the following in mind:
 The Client Profile
Look for the right assignment with the right client for your skill set and relative to your bodyguard career goals. For example, you wouldn't want to go on a bodyguard assignment with a principal who is a heavy metal rock artist known for numerous brushes with the law and illegal drug use if your ultimate goal is getting into executive security; bodyguarding CEOs of multi-national corporations. It's just not a good fit for your career ambitions with too many negatives involved. You don't want to risk your future career reputation bodyguarding sleazy clients, give it a pass, you don't have time for games, keep focused on your mission.
The Team Profile
The majority of the bodyguard assignments you will go will have team members who are principled, loyal, dignified and professional. However, there still are a few bodyguard teams in the business that have members without honor, respect, personal commitment or discipline. You do not want to be on such a team such. Instead look for teams who value trust, respect, solidity, professionalism and loyalty. Avoid 'cowboy teams' with no honor code or mutual respect at all costs. You'll be glad you did.
 Your Position on the Team
Look for the right assignment with the right position for your skill set and relative to your bodyguard career goals. For instances, if you are just starting out in the bodyguard industry you should ask yourself do I have the required skills at this stage of my career?  For example, the principal wants you to conduct a three country advance to include: 1) Entry/Exit airport surveys, 2) Responsible hospital surveys, 3) Hotel surveys, 4) Safe heaven surveys, 5) Venue surveys and, 6) Route surveys. You should not bother applying if you don't have the required skills to conduct these assignments in a professional manner.  Remember, the skill level required to be hired depends on the job and expectations.
However, as a rule advance work is a craft that needs to be studied, practiced and mastered. To succeed as an advance man in the bodyguard business you must have the ability to do the job well and the potential to do the job great. Keep studying your craft, build your confidence and keep focused. You don't get paid good money for something that does not require training and expertise. This is not to discourage you, just trust your abilities and make sure you are ready and fully prepared for the particular assignment. When you are ready, you'll know it and will accept the position with complete confidence in your ability.
What Teams Look for in Prospective Bodyguards?
Teams on the circuit look for prospective team members who are professional and pleasant, someone who has a good understanding of the business and fits in with the other members on the team. This also means knowledge of the principal and the culture of the company. They will also look for industry experience and training, someone with good people skills, widely trusted, keeps confidences, doesn't blame others for his own errors and keeps clear moral and ethical boundaries when bodyguarding principals. Get trained in the specific skills and knowledge you may be lacking, be persistent, proactive and sets high standards for yourself and your bodyguard career. Some things new bodyguards need to work on is paying attention to details, being open to criticism and applying good listening skills at all times. It is strongly recommended to work on any of these skills you may be deficient in every day. Bodyguard candidates usually score higher on interviews with teams on the circuit when they have these characteristics. Good luck and God speed.
About Doc Rogers: He is the author of best seller Corporate Executive Protection – A Manual for Inspiring Corporate Bodyguards and the newly released eBook entitled How to Build Your Own Executive Protection Business.  Doc is president and CEO of International Corporate Executive Protection Ltd., has earned a Ph.D. in Security Administration from Southwest University, is a Certified Protection Specialist from Executive Security International, a decorated former veteran police officer and is SE Asia's leading expert on executive protection and corporate security.