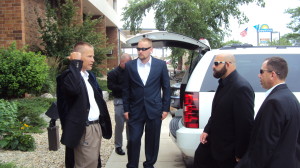 As a bodyguard you will continue to reap the benefits of your career by working hard to achieve your career goals. However, don't ever rest on your laurels. Here is a list of savvy bodyguard characteristics that you should develop.
Team Management: Regardless of the size of your bodyguard team, savvy bodyguards should keep their team members motivated and working effectively. To do this you must have the ability to inspire, influence and develop others on the team. If you are the detail leader you should hold goal-setting and evaluation sessions at the end of each shift to discuss specific issues and performance evaluations. These meetings should be geared towards improved performance, building morale, reiterating expectations and encouraging teamwork.
Attention to Detail: If it is worth doing, it's worth doing thoroughly. Attention to detail is the mark of a savvy bodyguard.
Delegate Bodyguard: Tasks As a savvy bodyguard you should understand that delegation is important because gives you a capacity to handle greater responsibility, empower and motivate the bodyguards who work for you.
Positive Relationships: Savvy bodyguards should develop positive relationships in all areas of the assignment, sharing need-to-know information with others on the team and connecting-well with others for mission success.
First to Wake Up & Last to Sleep: As a savvy bodyguard you should be the first one up every morning and the last one to bed on assignment. This will keep you in the know and well-informed on specific situations, circumstances and events; you will gain more knowledge and increase your intelligence.  Savvy bodyguards should be always increasing their insight for sound judgment and improved protection for the principal and the team.
Procedural Knowledge: The savvy bodyguard must have a high degree of procedural knowledge and bodyguard skills. Procedural knowledge and skills reflect the degree to which you are able to accomplish bodyguard tasks on assignment. Performance is achieved when knowing what to do is combined with knowing how to do it; this makes you a savvy bodyguard. The best savvy bodyguards have proven to be students of the profession. Keep learning and studying the game for operational excellence.  Keep safe and God speed.
About Doc Rogers: He is the author of best seller Corporate Executive Protection – A Manual for Inspiring Corporate Bodyguards and the newly released eBook entitled How to Build Your Own Executive Protection Business.  Doc is president and CEO of International Corporate Executive Protection Ltd., has earned a Ph.D. in Security Administration from Southwest University, is a Certified Protection Specialist from Executive Security International, a decorated former veteran police officer and is SE Asia's leading expert on executive protection and corporate security.