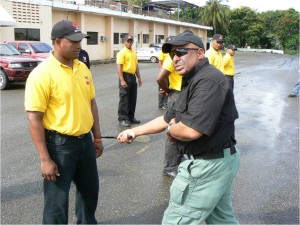 By Doc Rogers
To become a professional bodyguard it takes brains and street savvy, because there are lots of potential risks out there. Prior to each bodyguard assignment the following should be conducted of to minimize the potential risks.
Local Conditions: Once you have conducted a risk assessment of the local conditions (high, moderate, low risk) you should structure your bodyguard team with a balance of dedicated bodyguards and local bodyguards tailored to the requirements of each assignment and taking account of the local threats and potential risks.
Contingency Plans: On all bodyguard assignments and local conditions (high, moderate, or low risk)  contingency plans must be in place for principal evacuation from each venue to be visited, each location entered and while occupying a hotel overnight or for multiple nights. Safe havens must be setup; these are places where the principal will be protected from harm or danger (embassy, police station, security headquarters or compound, etc.).
Comprehensive Risk Assessment: A comprehensive risk assessment assessment process must be conducted. An assessment of the potential risk should be conducted in the early stages of planning bodyguard assignment planning. Factors include:
1) The history of threats and core causes (crime and/or terrorism).
2) The history and status of the police or security forces in controlling the risks.
3) Population demographics, in particular any ethnic threats.
4) Active regional crime or terrorist risks, particularly those that might pose a risk to the principal.
5) Available resources for the provision of security for the principal (security drivers, venue guards, etc.).
Specific Techniques to Reduce Risks: The following are specific techniques the bodyguard team should utilize to reduce risks towards the principal. Operational bodyguard deception should be employed to introduce doubt into the mind of those with potential to cause risk against the principal (crime, terrorism and/disruption risks). The following procedures should be included so actions cannot be predicted and attacks against the principal mounted:
1) Varying motorcade routes.
2) Varying foot movement routes.
3) Varying arrival and departure points.
4) Varying entry and exits points.
5) Change meeting venues.
Keep Unpredictable The above procedures will achieve an element of deception needed to reduce the potential risks towards the principal. The criminals, terrorists and those who seek to disrupt the principal's visit to an operational area will look to predict the actions of the the bodyguard team in order attack or upset the principal. Bodyguard teams must not set patterns, to do so would increase the risk to the principal. The motorcade must not stop at the same location, arrivals and departures, routes and timings must be unpredictable and be varied. At all times the bodyguard must remain vigilant for potential risks and communicate observed risks to the team. Keep safe and God speed.
About Doc Rogers: He is the author of best seller Corporate Executive Protection – A Manual for Inspiring Corporate Bodyguards and the newly released eBook entitled How to Build Your Own Executive Protection Business.  Doc is president and CEO of International Corporate Executive Protection Ltd., has earned a Ph.D. in Security Administration from Southwest University, is a Certified Protection Specialist from Executive Security International, a decorated former veteran police officer and is SE Asia's leading expert on executive protection and corporate security.