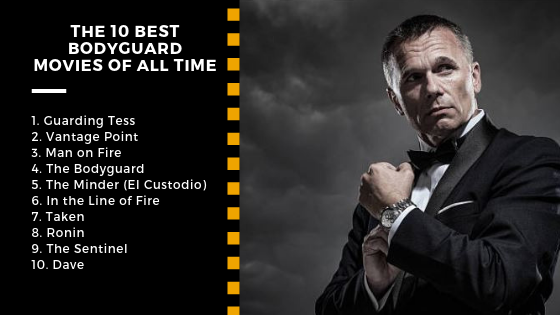 Bodyguard Movies
My Top 10 Bodyguard Movies of all time. To be clear, this is an unscientific study with the only criteria being that they have a component of Executive Protection included in the movie. The life of a bodyguard is a tough one, defined by long hours, ever-evolving responsibilities, and risky situations. It's anything but a glamorous lifestyle, but that hasn't stopped Hollywood from churning out bodyguard movies for several decades. Whether it's taking a deep dive into the tactical work of a high-profile bodyguard or exploring the relationship between a bodyguard and his or her client, these stories lend themselves to big screen action. Thus, there are dozens of bodyguard movies to choose from, but based on entertainment value and realistic portrayals, only 10 are truly worth your time:
Guarding Tess
In this 1994 film, Secret Service agent Doug Chesnic (played by Nicolas Cage) is assigned to protect former first lady Tess Carlisle (played by Shirley MacLaine). Tess is a handful, and her high-maintenance demands lead Doug to seek a new position. However, Tess uses her influence to ensure Doug remains head of her security detail. He desperately wants out, but he has a change of heart when Tess is kidnapped. Guarding Tess takes a humorous look at the ups and downs of maintaining a long-term relationship with a client—something many bodyguards will encounter throughout their careers.
Vantage Point
Vantage Point is a bodyguard blockbuster told from multiple angles. Special Agents Thomas Barnes and Kent Taylor, played by Dennis Quaid and Matthew Fox, respectively, are assigned to protect the U.S. President during a trip to Spain. Moments after their arrival, the President is shot, and an American tourist's camcorder footage may contain the information they need to find the shooter. When it comes to bodyguard movies, this is one of the most high-energy, and it offers a glimpse of what could happen when protecting a public figure or government official.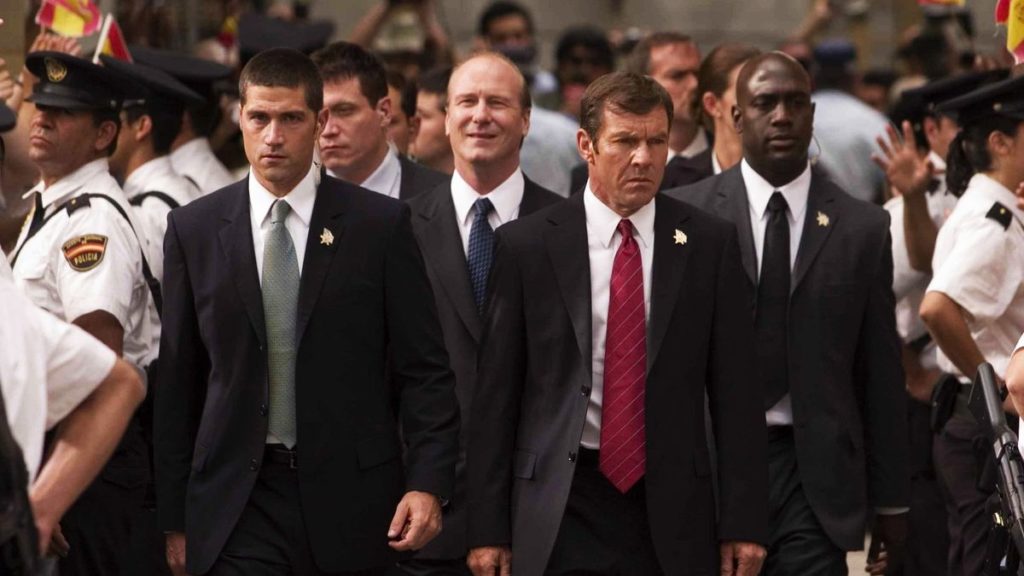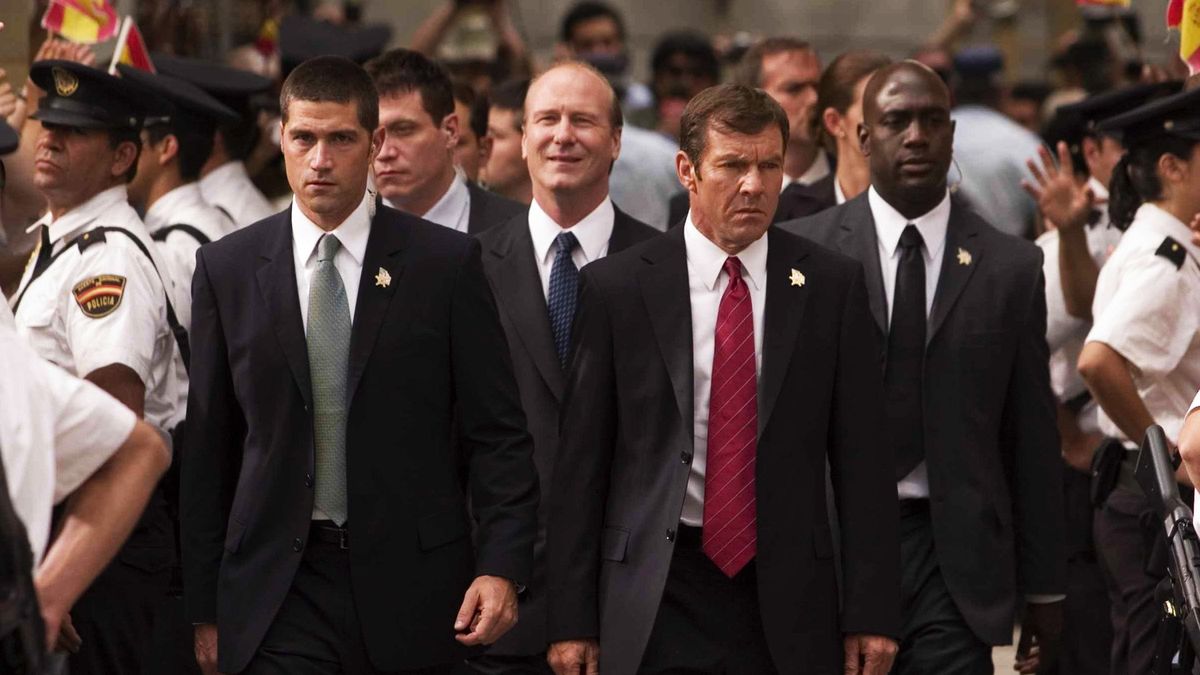 Man on Fire
Man on Fire tells the story of ex-CIA operative John Creasy (played by Denzel Washington). He takes a position protecting the 9-year-old daughter of a wealthy Mexican businessman. When she's kidnapped, he has to battle a string of corrupt law enforcement and criminals to save her. Though dramatized, the film details the many unexpected dangers a bodyguard can face in the line of duty.
The Bodyguard
Quite often, the lines between personal and professional are blurred as bodyguards spend more time with their clients. This 1992 classic, starring Kevin Costner and the late Whitney Houston, offers a romantic spin on the story. In The Bodyguard, former secret service agent Frank Farmer is hired to protect superstar Rachel Marron after she receives threats from an unknown stalker. Though their relationship is initially icy, they grow closer as they get to know each other, and Frank becomes personally invested in protecting Rachel, which could put him in danger.
A Bodyguard's Life
The Minder (El Custodio)
A bodyguard's life often involves observing another person's life and activities from the shadows, and this is captured to dramatic effect in the 2006 indie film, The Minder (El Custodio). Julio Chávez plays a bodyguard who feels alienated from life's joys as he protects the Minister of National Planning. The monotony and loneliness of his life eventually boil over, resulting in an explosive third act.
In the Line of Fire
In the Line of Fire isn't just one of the great bodyguard movies of our time—it's one of the most critically and commercially successful films of the last 30 years. Here, Clint Eastwood is a Secret Service agent who previously failed to prevent JFK's assassination. He has a chance to redeem himself when the current President faces a similar threat. The film offers a powerful glimpse not only into the dangers bodyguards face but also the ways past mistakes can resurface.
Taken
In Taken, a 2008 juggernaut that spawned sequels and a TV spinoff, Bryan Mills (Liam Neeson) must use his government operative skills to save his daughter from sex slavers. This timely thriller is packed with action but also examines the conflict bodyguards face when their work takes a personal turn.
Ronin
Unlike the other bodyguard movies on this list, Ronin takes a detailed look at bodyguard teams and what happens when there's a lack of trust. In the film, a team of experts is assembled to steal a briefcase filled with unknown contents. Throughout the mission, it becomes clear that not everyone can be trusted. In addition to the danger of the mission, each expert must also question the motives of the people he depends on.
The Sentinel
The Sentinel offers a scenario in which a bodyguard remains committed to guarding his client, even under the most extreme circumstances. Secret Service agent Pete Garrison (Michael Douglas) is on the run after being falsely accused of plotting to kill the President. One of his best friends, along with an ambitious young agent, is hot on his trail. He has to outrun them while still trying to save the President's life.
Dave
Like Guarding Tess, Dave explores presidential security from a comedic angle. Here, a presidential impersonator gets the break of a lifetime. When the President suffers a stroke while in a compromising position, Dave Kovic (played by Kevin Kline) is asked to stand in for the Commander-in-Chief until he fully recovers. Some politicians attempt to push their own agenda during the President's absence until Dave decides to push his own. The film suggests the lengths to which the Secret Service will go to protect their client.
Though they've been dramatized for the silver screen, these bodyguard movies are striking, entertaining, and often moving examples of the challenges bodyguards face on the job. If you're looking for a fun way to learn more about the career field, start here. And, if you're serious about exploring bodyguard career options, learn more about our Bodyguard Training Courses here.
Related Posts:
Bodyguard Season 2: When Will the Hit Series Return
Inside Secrets of the Bodyguard Trade
About Harlan Austin
Harlan Austin is the founder and editor of Bodyguard Careers. If you need help getting started in Executive Protection, Click on this link.