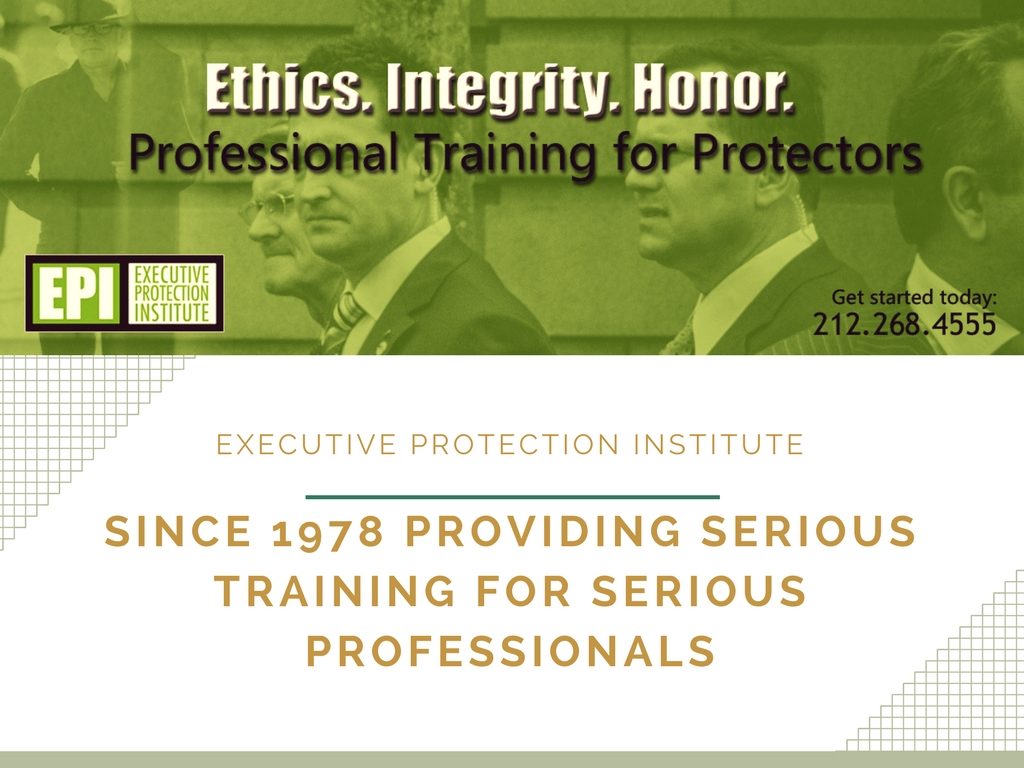 The History of the Executive Protection Institute (EPI)
"We put the pro in protection" is the standard and slogan of the Executive Protection Institute since 1978, and the EPI has lived up to this standard ever since. To understand their ideals of integrity, you don't need to look any further than the leadership of EPI. The Institute was established by Dr. Richard W. Kobetz. He started with the goal of ensuring that EPI was up to date on the latest technologies and methods. Through his rigorous efforts in hiring only the best instructors, Dr. Kobetz established an institute that has become the industry standard of excellence.
Dr. Kobetz was able to build a stellar faculty because of the connections he formed over his decades of experience in the protection specialist field. Some of his most notable achievements were:
creating protection training programs
becoming the police commander in Chicago, Illinois
co-writing Target Terrorism: Providing Protective Services
After eighteen years of leadership at EPI, Dr. Kobetz handed over the institute to Jerry Heying. Jerry Heying was a great industry leader prior to taking the reins at EPI.  He held many respectable positions including President of the Academy of Security Educators and Trainers. In 2009, EPI was purchased by the International Protection Group (IPG) a world-class leader in Executive Protection for the past 150 years. With this merger of two esteemed and seasoned agencies, it's no surprise that Executive Protection Institute has been able to blaze new trails with their innovative training program.
The Credentials 
If you read the many testimonials, you will see that each graduate possesses not only a high regard for the Institute, but a consistent sense of conviction in their work.  For instance, Douglas B. wrote:
"I can see why your program is the absolute 'Harvard' in the field. Other schools come and go, and you not only were the first to offer this training, but you continue to set and uphold the highest standards."
It is true that Executive Protection Institute paved the way for advanced and groundbreaking training. In 1994, EPI inspired other training facilities with their infamous "7-Day Providing Executive Protection Program." The Executive Protection Institute was also the first program to provide Official State Credentialing to its graduates. Another result of the EPI's diligent work and efforts for protection led them to not only meet but exceed the Virginia Department of Criminal Justice standards.  EPI's founder Dr. Kobetz created the Personal Protection Specialist (PPS) designation which has been officially adopted by the commonwealth of Virginia.
  Entry Level Training
Each applicant must undergo careful screening before they are accepted into the Institute.  Students who are admitted to the Executive Protection Institute will have the benefit of instructors who are well seasoned in their work. The EPI understands that faculty is one of the most important keys to training the next great crop of Personal Protection Specialists. The faculty of EPI are always improving themselves for the sake of their students. If you want to get to know your instructors after or before enrollment, you can learn about each on the EPI website which provides the credentials and experience of each instructor.  With that information, you can have the peace of mind in knowing that you are being trained by someone with great skill, years of experience, and passion for the work. 
The Executive Protection Institute has a long history of curating custom programs for each student's personal needs. EPI is also known for offering flexible training programs.  For example, you can learn through webinars and/or seminars. Or you can enroll in one of many in-person programs.  Class offerings cover everything an executive protection specialist needs to know including:
Executive Protection
Protection Driving
Protection Firearms
Defensive Tactics in Protection
The broad spectrum of courses offers a solid education in how to prevent and handle accidents, how to address intentional attacks, and what to do the case of a medical emergency. All of these skills are organized within various training programs.
When reviewing the education options that EPI offers, you will notice that the focus is consistently on the best methods for defending others.  But your training is designed to ensure that, in addition to your client remaining safe, you are safe as well.
In terms of gun safety, the training is layered as it focuses on precision and speed. EPI's gun safety training is implemented through a unique and methodical program. 
The defensive driving courses give detailed training in how to act as both a chauffeur and a personal protection specialist.
Advanced Training
Fortunately, EPI isn't just for those starting their careers at an entry level. After graduating, you have the option to get continuing education as a Nine Lives Association Member (NLA). The NLA is a private brotherhood of graduates that works together to advance the art and science of personal protection.  Members receive a Black Cat lapel pin to show their commitment to professional excellence. Membership in this exclusive club has many benefits including apparel and accessories with the membership logo, priority notification of available protection assignments, and access to members-only gatherings and events worldwide. You are only eligible once you have attended one of the Providing Executive Protection Programs.
The Executive Protection Institute encourages those with experience to try a variety of continuing education classes to either develop new skills or to improve their existing body of knowledge.  There are courses in Campus Protection, VIP Protection, Executive Protection, Protection Driving, Gun Protection, and Physical Security for Consultants & PPS to name a few.
Getting Started
Enrollment:     Call (212) 268-4555 or email them at info@personalprotection.com.
Duration:         Some programs take seven days to complete and can cost up to $3,500                                         to start.
Financing:       Financing is available to qualified applicants at 0% interest with up to 6 months to pay.
Payment:         Payment methods include check, credit card, or PayPal Credit.
Books:             A wide catalog of Executive Protection Training books are available.  
Related Posts:
About Harlan Austin
Harlan Austin is the founder and editor of Bodyguard Careers. If you want to learn how to get started in Executive Protection, check out my Patreon page at https://www.patreon.com/executiveprot… You'll find over 100 executive protection subjects covering a variety of useful executive protection tips.