Stand out in a crowd of Executive Protection Specialists
Create a profile with Bodyguardcareers.com and enjoy the following benefits
Prominent listing on a website that gets thousands of visitors a day
Featured link on a site that ranks highly on the search engines for keywords like "bodyguard", "bodyguards" and "executive protection"
A permanent URL on bodyguardcareers.com that you can place on your business card to add a professional touch
Great chance of ranking in #1 on Google for your name and industry – make sure that you can be found
All for a reasonable monthly fee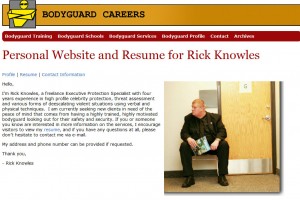 Our mission is to connect experienced, well-trained, and dependable Executive Protection Specialists (Bodyguards) with individuals in need of personal protection
You've made all the right moves.  You attended the best executive protection schools; you have carefully guarded your health and kept yourself in good shape.  You have an impeccable reputation complete with letters of reference that attest to your skill and integrity and now its time to put yourself on the market and launch your career as a world class bodyguard.  No matter whom you are or what your letters of reference say, every executive protection specialist faces the challenge of making themselves known to potential customers.  Like any other proprietor you will need to let the world know who you are and what you have to offer.
You have probably already taken the time to set up a website that lists your services and your qualifications in a professional and eye catching format.  You have printed cards and you may even be listed in one or more print media outlets.  Perhaps you have even learned how to use social networking sites like Facebook and Linked In, but the phone is still not ringing off the hook and you find yourself toiling away a job that is only supposed to be your "fall back" occupation.  The problem is not you its your marketing plan.  The problem is that you haven't yet figured out how to get yourself noticed by the people who need your services now.
The creators of Bodyguard Services Directory understand how to use the internet effectively for you, and they have earned the respect of the executive protection specialist community.  Now, through the Bodyguard Services Directory, you can be featured on an exclusive list of executive protection specialists that consumers will use to find their next bodyguard.
Unlike other directories, the layout for Bodyguard Services lets potential customers see your profile right away.  Our website is optimized for specific keywords related to the industry of executive protection.  Anyone who has surfed the web knows how frustrating it can be to use a website that requires a person to click deeper and deeper to finally get where you need to be.  Bodyguard Services is different, in less than three clicks potential customers can see your profile and make an informed decision to hire you based on your qualifications for the job.
The job market is tight and you have worked hard to develop yourself into a true professional.  Don't waste your time and money on websites that will simply frustrate potential customers to the point where they give up.  Have Bodyguard Careers create a bodyguard services profile for you and get your profile in front of people who need your services now.