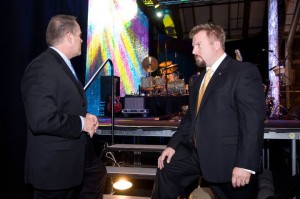 Bodyguards Do You Know The Art And Science Of The Trade?
By Doc Rogers
As bodyguards we work with clients to create a safer and more comfortable lifestyle, which can be a complicated task at times.  It looks simple on paper. Meet client at airport, transport client to hotel, deliver client to first meeting, etc.  But there are a lot of variables involved. 
Each operational area is different and each client has a different temperament.  To make things simpler, it's best to use a mixture of art and science. To be able work the art and science of bodyguarding you must have the science down pat.  This includes a full knowledge of the trade, familiarity of arrival and departure procedures, knowing your operational area inside and out, as well as the strengths and capabilities of your support personnel.
Here are just a few examples of using the art of bodyguarding.  When on solo-bodyguard assignments use 'force multipliers' such as trusted airport meet and greet personnel who escort clients within the tightly controlled airside areas of the airport (customs and passport) directly to your location. It may be difficult for your client to get from airside to the passenger arrival area alone.
Your client may be tired from the flight and you don't want him or her standing in long lines. Utilize the same procedure upon departure; express security screening, check-in, escorts through passport control and priority boarding gate or lounge.  Also you can setup and provide vetted dedicated baggage handlers at the hotel and airport. 
Your security driver should be under strict SOP (standard operational procedures) to arrive one hour early each day.  To have a cooler filled with clean ice and assorted beverages (bottled water, Coke, Diet Coke and 7-UP) obtained from the hotel concierge desk and placed in the client vehicle. These step-up-step procedures should be provided during the advance phase.
These simple combinations of features make your bodyguard service more effective by knowing who will be within close proximity to your client ahead of time and knowing they will follow an exact set of rules and procedures while performing their support services.  This relieves your mind so you can concentrate and devote your full attention to providing the best bodyguard services possible. 
When you work with other successful bodyguards who have mastered the art and science of the trade it's because of all the things he or she has done day-after-day has added up to produce that level of success.
Remember, no one is forcing you to do anything. It takes time and considerable effort to setup airport facilitation arrangements and coordinating airport security requirements, etc.  But to perfect the art you need well-defined goals and effectively pursue them.  Knowing it is one thing. Acting on it is something else.
The bodyguard industry survives on utilizing a combination of art and science. Those bodyguards who only provide the science will be struggling and same goes for those who only provide the art.  With the art of bodyguarding it's important to experiment and try new things.
Learn to utilize the art of being resourceful as well as keeping true to your bodyguard SOPs; blending your bodyguard skills and personal attention you provide to the principal. Don't be limited in your thinking as it will ultimately benefit your career. Execute your plan. Keep safe and God speed.
Doc Rogers is the author of Corporate Executive Protection – A Manual for Inspiring Corporate Bodyguards and president and CEO of International Corporate Executive Protection Ltd. Doc has earned a Ph.D. in Security Administration from Southwest University and he is SE Asia's leading expert on executive protection and corporate security.