Jeff here, the behind the scenes guy at Bodyguard Careers. While Hucky has been working hard as tremendous face of the organization, I have been working hard to make sure the site runs the best that it can.
For years, Bodyguard careers has been added to and improved upon based on our original web design and template on the WordPress platform. This has allowed us to make updates without making major changes to the site, but has also made major initiatives to modify the site difficult. Somewhere in the middle of 2012, we decided that it was time to start over from scratch and completely rebuild the website – complete with a new design, theme and dedicated homepage. It also meant that pretty much everything on the inside has been gutted in order make the site scalable for the future.
While this was no small endeavor to complete the project, we are very pleased with the result – a beautiful showcase of a website.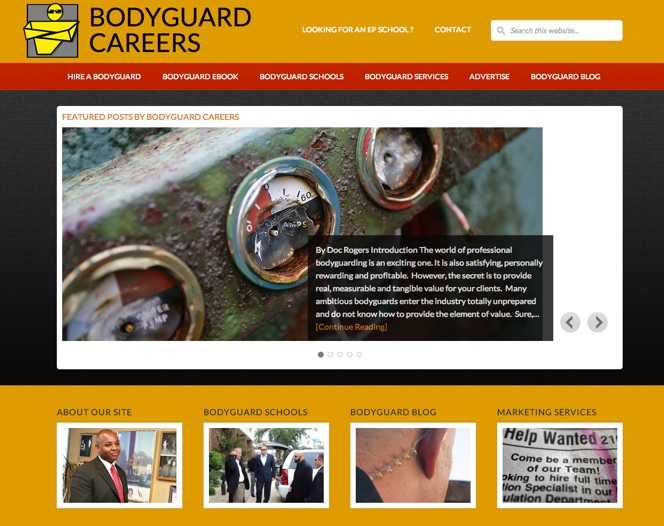 Hopefully you have already noticed the new site design and enjoy it as much as we do. If you are new to Bodyguard Careers, here is a post about how the site has changed over the years: WordPress in 2005 vs. WordPress in 2013.
When I say that we "gutted" the site, I don't mean that lightly. Every aspect of the site changed as part of our redesign, with the exception of our previous content. We changed everything, including:
The host of our website – We moved to the best host in the business and they guarantee our site won't crash if we get a traffic influx. This is a huge difference from the time our site crashed after Hucky was featured on the National news
Our contact forms
Our email lists and mail program
The layout and design of the site
All sidebars
The Comments system
Many other items
These are all positive changes that will make the site better, but we aren't done yet! You can expect to see many future improvements in the future.
Future improvements to look forward to in 2013:
A more robust job board and resume submission engine

More eBooks and access to premium information
Revamped email template and promotional emails
A stronger community for site visitors
Much more!
We look forward to your continued patronage to Bodyguard Careers and hope to see you back soon!