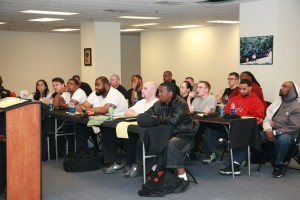 In the bodyguard industry to move ahead we must keep educating our selves' year-after-year to meet the ever-growing demands and to remain competitive, bodyguard training seminars is a great place to start. There are certain rules which should be attended to; here are some strategies for attending a bodyguard training seminar to get the most from the training experience, adding more skills as well as making professional contacts in the industry.
Arrive at the bodyguard seminar early and be prepared this includes bringing your business cards, researching the bodyguard trainers and speakers at the seminar (backgrounds and specialties). This way you'll be better informed about the training and be able to carry on a knowledgeable conversation with them and the other attendees. Don't forget to bring a notebook for writing down notes and information on the contacts you make.
Networking is the bread and butter of the bodyguard industry get to know the attendees at the training event as well as the hosts. Try to look and carry yourself as a professional (haircut, sport jacket and immaculate grooming). By being a clean-cut professional type, you'll make the best possible impression and be more approachable. Make sure you bring back a stack of business cards from the contacts you make and follow-up with them in the possibility of building a strategic professional relationship in the bodyguard business.
Socialize responsibly after the bodyguard training seminar; mentally gear yourself up to talk with the attendees, the bodyguard trainers and speakers. This means having a stricter game plan; don't drink or talk to much, extend your hand first, make good eye contact, be a good listener and learn the ropes. Be attentive and respectful to all. Don't lose focus, keep your objectives clearly in mind – to get plugged into the bodyguard network and learn all you can about the industry. Show your genuine passion and enthusiasm, but never boastful or arrogant.
If you followed the steps I have outlined for you, there is no question you'll have a great learning experience, meet new bodyguard personnel, gain an edge in the industry and have fun at your next bodyguard training seminar. Keep safe and God speed.
Doc Rogers is the author of Corporate Executive Protection – A Manual for Inspiring Corporate Bodyguards and president and CEO of International Corporate Executive Protection Ltd. Doc has earned a Ph.D. in Security Administration from Southwest University and he is SE Asia's leading expert on executive protection and corporate security. To learn how to make a full time living as a corporate bodyguard visit the websites below for more information.

http://www.trafford.com/Bookstore/BookDetail.aspx?Book=182707
http://www.amazon.com/Corporate-Executive-Protection-Inspiring-Bodyguards/dp/1425135927
http://international-corporate-executive-protection.com/order.asp