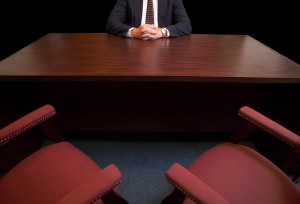 You have secured an interview for a Bodyguard position, now is time to start preparing. With good planning and groundwork you will pass the first screening interview stage and move on to the second round of interviews in securing your Bodyguard job.  Here are some good ways to properly prepare:

Conduct a Recon
Find out as much as you can about the company. Identify its main executives (CEO, presidents, vice presidents, etc.) products or services. Conduct a detailed examination of any security threats it may have had experienced in the past (product tampering, kidnapping, employee violence, etc.).  Check out the company's website and find out which countries the company operates in as well as other related information.
Continue your recon on the company's background, slogan, principles and mission statement. Identify what the company has accomplished and what it is striving to accomplish in the future.  This reconnaissance will give you the company's big picture and will communicate to the interviewer you have a clear and present interest in the company.
Craft Your Career Statement
Craft a career statement; this is a 15-second outline of your favorable skills, knowledge and understanding of the Bodyguard position.  Here's an example:
"I shall carry out my Bodyguard duties with professionalism, centered on the concept of serving my principal, and in the interest of (insert company name). I shall always strive to excel in my vital role of keeping the principal safe according to the highest standards of professional and personal conduct that is true and consistent with the reputation of (insert company name)."
By constructing a career statement before the interview you will have an advantage over the other candidates applying for the position. Be ready to answer the customary job interview questions in the interview first round, these may include:
•    Tell us about yourself and your background.
•    What type of a Bodyguard will you be for (insert company name)?
•    What are your strengths and weaknesses?
•    Tell us, why should we select you for the Bodyguard position?
•    Are you a team player and will you fit into (insert company name)?
•    What interests you most about the job at (insert company name)?
•    What salary are you looking for in the Bodyguard job at (insert company name)?
•    What package are you looking for in the Bodyguard job at (insert company name)?
•    Have you got any inquiry for us?
Meeting the Interviewer
Shake hands with the interviewer, smile, and be relaxed. Keep your hands comfortably on your lap and maintain good eye contact with the interviewers. Answer the questions using everyday language.
Do not use technical language or terms specific to the discipline of Bodyguarding, remember you are talking with an individual from the human resources department and you want this person to understand what it is you are talking about. Speak in simple layman terms. Vocabulary such as advance work, protective coverage, reconnaissance, warning order, DL, etc. should be used sparsely only when talking with personnel from within the company's executive protection unit.
To ensure that you clearly meet the required "Corporate Fit" performance standards and to show that you're mentally and physically prepared for the job follow these recommendations; they will increases your value in the eyes of this interviewer.
•    For men wear a clean and crisp well-fitted business suit to avoid any negative first impressions, nothing flashy. A neutral one color tie should be worn with a long white sleeve dress shirt. Wear a black belt, black well-polished shoes and dark socks.  Be clean-cut and freshly shaved.  No facial piercing or earrings allowed. Brush your teeth and don't chew gum.
•    For women wear a clean and crisp well-fitted business pants-suit of a dark neutral color, a long sleeve button shirt and leather close toe shoes with low heels.  Your hair should be in a neat ponytail and keep jewelry wearing to an absolute minimum.  Brush your teeth and don't chew gum.
•    Don't be over confident or cocky. However, assume a manner that you and the interviewer are speaking as if your have already been offered the position.  Positively thinking, good thoughts in the interview helps.
•    The initial interview is your chance to let the interviewer know what your marketable skill sets are and what you will bring to the Bodyguard position.
•    Talk about your protective experience and training, threat assessments, leadership, discipline, medical skills and logistics, your customer service attitude as well as your marketable skills and experience from the military, law enforcement, personal security detachment or private sector. Keep it clear and in layman's terms.
•    After the interview shake hands with the interviewer use his or her name; "Thank you Mr. Jones, or Mr. Jones."
•    Write a thank you letter addressed to the interviewer and send if by express mail (FedEx, DHL, UPS, etc.) to the target company Human Resources Department. After you sent the letter by express mail send the interviewer a thank you e-mail.
By following these basic will set you apart from the rest of the Bodyguard job applicant competition.  Keep safe and God speed.
Doc Rogers is the author of Corporate Executive Protection – A Manual for Inspiring Corporate Bodyguards and president and CEO of International Corporate Executive Protection Ltd. Doc has earned a Ph.D. in Security Administration from Southwest University and he is SE Asia's leading expert on executive protection and corporate security. To learn how to make a full time living as a corporate bodyguard visit the websites below for more information.
http://www.trafford.com/Bookstore/BookDetail.aspx?Book=182707
http://www.amazon.com/Corporate-Executive-Protection-Inspiring-Bodyguards/dp/1425135927
http://international-corporate-executive-protection.com/order.asp