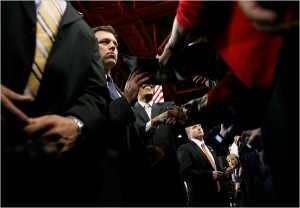 By Anonymous EP Guy
Executive Protection Specialists (Bodyguards) are required in many cases to work extremely long shifts in order to provide round the clock coverage for the principal, most of the shift will be on your feet.  Due to funding restraints and a lack of understanding of the advanced facets of security and protection details, many clients will usually budget for one or two protection specialists at most per detail.
Due to these restrictions the Executive protection specialist can expect to spend long hours with very little sleep, planning routes, conducting background checks, and ensuring that the client is kept safe not only from physical harm but also from potential embarrassment, such as with the infamous "Pie throwing" incident against Microsoft founder Bill Gates in February of 1998.
Numerous Executive Protection Specialist, have protective training and experience serving in the armed forces, police or private security firms such as Blackwater, Triple Canopy and DynCorp.  With the recent wars in Iraq and Afghanistan there has been an increase in the numbers of military/private security trained protection specialists in the past 5 years.
In many cases, potential clients have requested that executive protection specialists have prior operational experience with the military or a private security detail operating in a hostile environment such as Iraq or Afghanistan.
Another important job requirement for this career field that is often over looked is that of domestic and international travel.  With the constant changes in airline travel and security regulations since the events of 9-11, the Executive Protection Specialist faces additional challenges that require appropriative travel documents for not only the protective agent but also the principal and others that may be traveling with the client.
Protection specialists must be both physically and mentally fit and have good eyesight, hearing and impeccable judgment.  The protection specialist must have a presentable appearance especially for PSD or CP work where they are under the constant scrutiny of both the media and general public.
Extensive Tattoos, body piercings and modifications are frowned upon and are not acceptable for these types of details.
In the spring of 2005 a close friend of mine was working on a State Department protection detail in Iraq,  My friend had over 20 years experience working in the Army as a Special forces operator and had extensive training and experience with protective details.
He also had numerous tattoos that covered his arms, hands and neck, within three weeks time of being assigned to the detail he was removed because the client had issues with his "gang like, thug appearance" that he feared could bring discredit to the US Government.
Today's protective specialist must be a jack of all trades and have a strong understanding that the position of protection is one that is constantly changing and revolving, the successful protection specialist must remain "fluid", at all time and be able to "switch on" at a moments notice to deal with a potential threat, while at the same time being able to "switch off" quickly and come back on line into the normal realms of operational status.
The protection specialist must be both diligent and observant and be able to be focused at any specific task.  The protection specialist must be able to work both as an individual and as a member of a team and should have a strong understanding of how a protection detail works so that he/she is able to fill any of the various roles or positions should they be tasked to do so.
One of the keystones of working in this field is being able to improvise, adapt and overcome and being able to remain calm in stressful or potential dangerous situations.  In 2004 a High Threat Protection Detail from the security firm DEH was ambushed in a complex attack while returning from the Green Zone to their home base at Camp Tajji.
The team's two lead vehicles were destroyed in the initial contact.  Fearing that they were about to be overrun, the team leader got the principal into the last remaining vehicle with half of the team from the downed vehicles.
The team leader along with 4 other protection specialists stayed behind and provided a high rate of concentrated violent fire on the attacking insurgents, once the last vehicle was clear of the x, (ambush site) the team leader ran back to the two downed vehicles and per SOP burned what was left of the vehicles with thermite grenades to ensure that nothing fell into the hands of insurgents.
Upon completion of destroying the vehicles, the team leader under covering fire pulled the remainder of his team to a ditch area on the other side of the roadway where they "borrowed" a car and were able to make it back to their base of operations with only one minor wound and no loss of life to the principal or team members. This action was true grace under fire, and the Team leader and his team of protection specialist were able to keep their cool and do what he was paid to do….Keep the client Safe