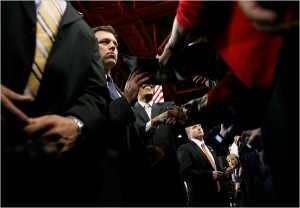 By Anonymous EP Guy
Executive Protection Specialists (Bodyguards) are required in many cases to work extremely long shifts in order to provide round the clock coverage for the principal, most of the shift will be on your feet.  Due to funding restraints and a lack of understanding of the advanced facets of security and protection details, many clients will usually budget for one or two protection specialists at most per detail.
Due to these restrictions the Executive protection specialist can expect to spend long hours with very little sleep, planning routes, conducting background checks, and ensuring that the client is kept safe not only from physical harm but also from potential embarrassment, such as with the infamous "Pie throwing" incident against Microsoft founder Bill Gates in February of 1998.
Numerous Executive Protection Specialist, have protective training and experience serving in the armed forces, police or private security firms such as Blackwater, Triple Canopy and DynCorp.  With the recent wars in Iraq and Afghanistan there has been an increase in the numbers of military/private security trained protection specialists in the past 5 years.
In many cases, potential clients have requested that executive protection specialists have prior operational experience with the military or a private security detail operating in a hostile environment such as Iraq or Afghanistan.
[Read more…] about Do You Have The Executive Protection Mindset?