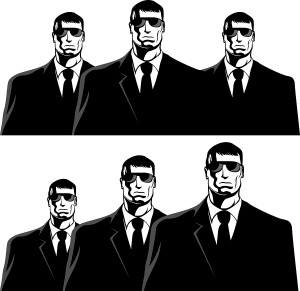 By Harold T German
According to the FBI, there is an average of 6.7 kidnappings and 5.5 murders for every 100,000 people in the United States. Although these statistics refer to the general population, executives and high profile individuals, as well as their families, are included in this figure. In a continuous effort to curb these numbers, many organizations seek out executive protection services, which are typically performed by high-end security companies.
As part of their initial process a security guard company usually begins its executive protection plan by performing a comprehensive risk assessment. It is here that the risks against the executive are identified, measured and are implemented to prevent these risks from materializing. Many considerations are factored into this process, which can vary depending on the client and circumstances. For instance, the client may be a political figure with a controversial stance, or the child of a prominent business tycoon. The former might run a higher assassination risk, whereas the latter might have a higher risk for kidnapping. Each scenario poses a completely different set of challenges.
Risk Assessment Does Not Fit Into a Perfect Mold
As those who have been in the executive protection business for any length of time will tell you, in many cases, risk assessment for executive protection-in practice-is not always that straightforward. There are instances where one is assigned to a principal against whom there is really no obvious threat. With a case of this type, many security professionals working alone-and even some working in a group-run the risk of falling into complacency, which can result in grave mistakes and security holes if a situation were to arise.