Infidels in the Garden of Mesopotamia
By Nathan Seabrook
The wars in Iraq and Afghanistan created the need for a new breed of protection specialist, giving rise to what has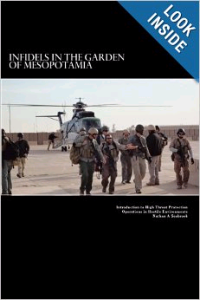 become known as "security contractors or high threat protection specialists". Nathan Seabrook, a high threat security specialist, has written a new book entitled; "Infidels in the Garden of Mesopotamia".
The book provides the reader with a unique insight into the planning and conducting of protection operations in high threat and semi permissive environments worldwide. The foreword of the book is written by SGM Keith Lamb (Ret.), a former member of the 1st SFOD-D (Delta) with extensive operational experience working in these enviornments.
For those working on high threat protection details, executive protection specialists,  or those working in a high threat environment or have an interest therein; this book has something to offer everyone. In addition Portions of the proceeds for this book will be donated to the Special
Operations Warrior Foundation.